Roof Repairs in O Fallon, St. Peters, Warrenton & Nearby
Emergency roof repair & routine roof maintenance in Greater St. Charles
Is your roof leaking? Do you have missing shingles or ugly stains on your roof? Freedom Restoration & Roofing has an experienced crew that can diagnose your roof problem and handle all your roof repair needs. When minor problems are overlooked, they can become costly problems that can damage the interior of your home. Make sure your home is properly protected with quality materials and reliable repairs. Fixing your roof now can also help you avoid expensive roof replacement.
Freedom Restoration & Roofing works with a wide variety of roofing materials that are guaranteed to give you the best possible results. We'll complete a total inspection of your roof to make sure the structural integrity of the roof remains intact. Once finished, we'll go over all possible options for repair. Whatever the issue plaguing your roof, our roofers are trained to handle them all and repair them with efficiency.
If your roof is showing signs of wear or you've noticed a problem, call us at 1-855-517-1973 or click below to request a roof inspection and repair estimate today! We are your experienced roofing contractor serving St. Peters, O Fallon, Warrenton and nearby Missouri areas.
We can solve all your roof problems
Shingle lifting. Lifting shingles is a common roof problem that should be repaired to prevent water from leaking inside your home.
Roof Leaks
Blow-off damage from high winds
Hail damage
Structural damage from falling trees
Damaged or missing shingles & roof flashing
Damaged gutters & downspouts
Damaged skylights
Roof ventilation issues
Don't ignore a leaky roof – we can help!
The surest sign of a leaky roof is when water has stained your ceiling or walls. Finding the spot where your roof is leaking can be difficult since water can enter the roof in one spot and run down to another before it gets into your living space. While most roof leaks are caused by damaged or missing shingles or tiles, the problem may also be inadequate flashing or more serious deterioration of the roof covering. Here at Freedom Restoration & Roofing, we can find roof leaks quickly and provide all roof leak repair services. Why risk climbing on your roof? Trust our experts for fast, reliable help!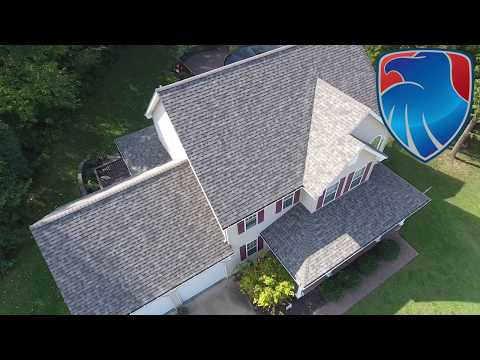 Owens Corning Roof Replacement in Washington...
This new Owens Corning roof looks amazing! We worked with the home owners insurance company to get them the...
Watch Video
Recent Roofing Projects
Products
Owens Corning Roofing Options
Owens Corning offers a wide variety of shingle options, all of which meet the highest standards of quality, durability, and appearance. The three main categories are architectural, specialty, and traditional shingles. Architectural shingles are available in many lines, including TruDefinition Duration Shingles and Oakridge Shingles. Similarly, specialty shingles include Devonshire Shingles, Berkshire Collection Shingles, Duration Premium Cool Shingles, and TruDefinition Duration Storm Impact Resistant Shingles.
Benefits of Owens Corning shingles:
A variety of color choices
Energy efficient options
Extensive warranties
Strong and durable
Free estimates for roof repair & maintenance in Missouri
Whether your roof is damaged by a recent storm or from normal wear, our goal is to improve the condition of your roof and prolong the need for roof replacement. Contact us today to discuss your needs with one of our knowledgeable specialists! We will provide you with a free estimate for roof repair. We work in St. Charles, St. Louis, Florissant, Chesterfield, Ballwin, Wentzville, Troy and surrounding areas.
Looking for a price? Get a no cost, no obligation free estimate.